by The Reverend Dr Max Wood, President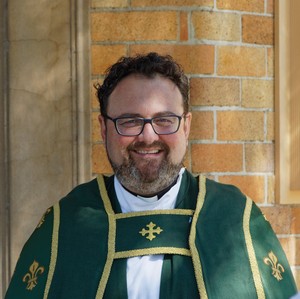 For those of us who feel that our annual life journey as Sydney Anglicans just isn't complete without Synod, fear no longer—it's back! After being postponed due to COVID-19 restrictions in 2020, the first ordinary session of the 52nd Synod of the Diocese of Sydney is scheduled for a one day sitting on Monday 3 May 2021. The Administrator of the Diocese, Bishop Peter Hayward of the Wollongong Region, will preside. This will follow the retirement of our current Archbishop, Archbishop Glenn Davies, on Friday 26 March.
Synod will meet at the larger socially distance compliant International Conference Centre in Darling Harbour after a Synod Service at St Andrew's Cathedral commencing at 1.00pm. A special session of Synod to elect our next Archbishop will commence the following afternoon, Tuesday 4 May, concluding Friday 7 May or earlier if the election is completed prior.
Anglicans Together members who attended the final session of the 51st Synod in October 2019 will recall that there was some discussion and debate concerning which group of Lay Synod Representatives (the 51st or the 52nd) would participate in the special Archbishop election Synod. The global pandemic has resolved this issue, and it is Lay Synod Representatives of the 52nd Synod (Lay Synod Representatives elected at Parish AGMs held in 2020 or subsequently elected or appointed) who will participate and vote for the new Archbishop in May.
Concerning the one day first ordinary session, it is anticipated that much of its work will be procedural in nature. However it is also quite possible that there will be motions in response to the much publicised decision of the Appellate Tribunal in November 2020 concerning liturgies for the blessing of civil same sex marriages.
The majority opinion (5-1) of the Appellate Tribunal held that: 'Wangaratta Diocese's proposed service for the blessing of persons married in accordance with the Marriage Act does not entail the solemnisation of marriage; is authorised by the Canon Concerning Services 1992; and is not inconsistent with the Fundamental Declarations and Ruling Principles of the Constitution of the Church.'[1]
This decision has been warmly welcomed by some sections of the Australian church. Bishop John Parkes, former Bishop of Wangaratta and Diocesan Bishop at the time of the passing of the contentious regulation, has said that he is 'delighted…but not surprised that the Appellate Tribunal by majority of 5-1 decided that what we had proposed in terms of a rite of blessing for persons married according to the law of the Commonwealth was lawful...Had I thought otherwise I would not have proceeded...I hope that this sends a clear message to LGBTIQ people at least in this part of the world that they are loved by God and affirmed and welcomed by God's church.'[2]
In contrast, the Appellate Tribunal decision has been strongly condemned by prominent members of the Sydney Diocesan leadership. In a letter to clergy, Archbishop Glenn Davies wrote: '...clergy are forbidden to solemnise same-sex marriages, for to bless such a union would amount to the blessing of sin...In my opinion the effect of the majority opinion's legal interpretation undermines the clear teaching of Scripture and thereby dishonours God...This is a crisis for our National Church and should lead us to prayer as we reflect upon both the teaching of Scripture and the demands of discipleship.'[3] The Reverend Dr Mark Thompson, Principal of Moore College, has also argued: 'The opinion is deeply wrong because it opens the door for the blessing of behaviour which the Bible clearly says will exclude people from inheriting the kingdom of God...'[4]
Sydney Diocesan Standing Committee has also unanimously passed the following Motion: 'Standing Committee of the Diocese of Sydney entirely rejects the recently released majority opinion of the General Synod Appellate Tribunal. We stand with brothers and sisters all over the world who have resisted the attempt to bless what God does not bless and to ignore the teaching of Scripture on the extreme danger of the behaviour endorsed by the proposed services of blessing. We are deeply saddened that the delivery of this opinion further disturbs the hard-won unity of the church."[5] It waits to be seen whether similar motions are presented to Synod when it meets in early May.
Concerning the special session of Synod to elect our next Archbishop, nominations are open until 5.00pm Tuesday 23 March. Although there have been some procedural changes, it requires 20 members of Synod to validate a candidate's nomination and also appropriate confirmation of safe ministry checks.
There are now a number of names of potential candidates which have been canvassed, although three names have been consistently mentioned. They are (in alphabetical order so as to avoid any potential preference!):
Bishop Richard Condie, Diocesan Bishop of Tasmania—(b.1965) completed his undergraduate theological training and formation at Ridley College, Melbourne. He was Ordained Priest in Grafton Diocese serving there until he then moved to lecture and minister in Melbourne Diocese. Bishop Condie was Consecrated and Installed as the Bishop of Tasmania in 2016.
Dean Kanishka Raffel, Dean of St Andrew's Cathedral, Sydney—(b.1964) completed his undergraduate theological training and formation at Moore College, Sydney. He was Ordained Priest in Canberra and Goulburn Diocese serving there until moving to minister in Perth Diocese. Dean Raffel was Installed at St Andrew's Cathedral in 2016.
Bishop Michael Stead, Bishop of South Sydney—(b.1969) completed his undergraduate theological training and formation at Moore College, Sydney. He was Ordained Priest in Sydney Diocese in which he has subsequently ministered in a number of parishes. Bishop Stead was Consecrated and Installed as the Bishop of South Sydney in 2016.
It again remains to be seen if any of these potential candidates are nominated or ultimately elected as our next Archbishop.
On a final note, although Diocesan Synod did not meet physically in 2020, it still undertook some important work virtually, with respect to electing positons required for this coming Synod period. As we previously advised, Anglicans Together Committee Members nominated for a number of positions. While none were successful in being elected in contested elections, it is fair to say that the percentage vote received exceeded expectation. The President and The Reverend Michael Armstrong (Hunters Hill) were also elected, unopposed, as clerical members of the Northern Regional Council.
[1] https://anglican.org.au/wp-content/uploads/2020/11/AT-Wangaratta-11112020-Final.pdf [Return to text]
[2] http://tma.melbourneanglican.org.au/news/tribunal-clears-way-for-same-sex-marriage-blessings-121120 [Return to text]
[3] https://sydneyanglicans.net/news/general-synod-to-consider-legal-opinions-on-same-sex-blessings/ [Return to text]
[4] https://moore.edu.au/preliminary-thoughts-on-the-appellate-tribunal-ruling/ [Return to text]
[5] http://acl.asn.au/sydney-standing-committee-regarding-references-to-the-appellate-tribunal-same-sex-blessing/ [Return to text]